By now all those who read my blog know how much I love recycling..making plain items pretty and reusing!! I did this project in Zürich to organize my craft supplies. (I am so happy to see my stuff again tomorrow!!)
This project came to my mind when I saw glass jar (just like a jam jar) with a pretty cap in a local mall. I was wondering why people are buying empty jam jars/bottles with a pretty lid. I mean you can recycle the ones you have already have at home!! So I came home and decided to do it myself.
To do this project,all you need is a used, empty, cleaned glass bottle/jar. I used a jalapeño bottle and acrylic colors.
Then remove the paper label.
I used a bottle without any engraving or labels embossed on it.
I painted it 2-3 coats. Let it dry for 1 hour or more..
Decorate it whatever design you want using a stencil or painting directly..
Store your craft or food items in your pretty jar..
It's hard to tell if it is reused bottle or I bought a mass produced one from the mall:)
Recycling is good..It's very very good.. Just take a look at the pretty things people have created using recycled bottles..
The Christmas trees were made using recycled beer bottles..
This Thai temple is build using more than one million glass bottles..It is a piece of art.. Check out more pics of the temple here..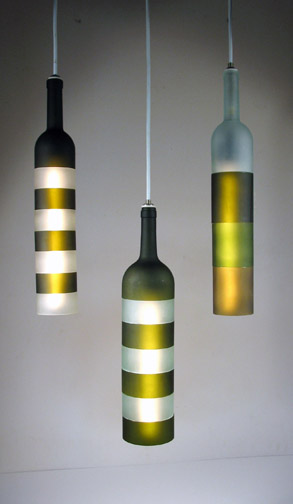 Jerry Kott's Lamps from recycled sculptures..
I am sure you are inspired... just a creative idea .. and you can make your own piece of art!!