What makes the festive season special is the idea of making it special for your family and close friends. Be it making time for each other, throwing a party or exchanging gifts. I am sure I must have mentioned this in earlier posts related to gift inspirations that more than shopping for presents I love to wrap them beautifully befitting the theme or occasion.
Indian festive or marriage occasion or a Bollywood themed party definitely calls for extra pizzazz and bling bling effect. Sparkling, bright, glossy and vibrant are the important elements that one has to keep in mind while decorating for an Indian themed party. Diwali is That occasion !!
While decorating the house for Diwali , Why leave the gifts in the same drab simple manner? Indian gift wraps and style are not just any wrapping paper but a masterpiece!
I hope you all ready to impress your guests and take a huge
commendation for the best wrapped gift they have ever seen:)
Lets see some brilliant ways to wrap, embellish, decorate the presents. A hint of warning - try to keep your mouth shut because it will be when you see these stunning , jaw dropping , gorgeous gift wraps!!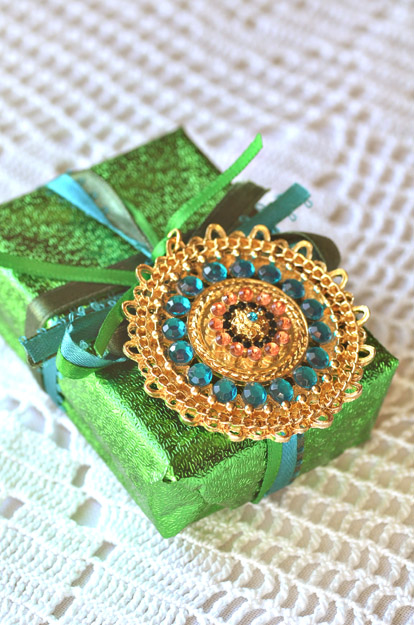 Glittery glossy paper , some ribbons along with a beautiful pendant or a brooch to make your gift look oh-so- glamorous ! Save pendant, buttons, strings, zari borders from your Indian dress/sari/ jewelry. You will give it a glamours new life some day on gift wrap and get a lot of applause as well !!
If you are from India you might be familiar with these. Fabric pouches with intricate embroidery or shiny stones or zari border with muslin cloth inside. These would be used these to gift fabric, jewelry, gadget or even a gift card. These are good to gift as they are as well. I have plenty of them which my aunt thoughtfully put in my wedding trousseau. These keep expensive sarees and blouses in perfect condition for years. I can vouch for that since my wedding sarees have not seen daylight for last 7 years:)
oh these are so gorgeous!! You have to check this shop out!! Studio ABCD has the most amazing, unique variety of hand block printed wrapping papers. These are printed with traditional Indian block printing techniques on recycled newspaper or film posters. The concept of ' Second Life' is to reuse, reduce and recycle. The printing of this papers is done by an NGO which employees differently-able persons and creates livelihood opportunities for them. I love the idea and the sprit behind this shop and will do a separate post next time!
The Indian block print designs on recycled paper make such a gorgeous gift wrap with a homely understated feel to it!! I love the colors, design and festive feel to it!! These are from Field Guide Design on Etsy. The artist, Darbie Nowatka is inspired by textile design, geometry, and n
ature. She uses 100% recycled Kraft paper with
fluorescent teal, green, orange, and pink inks.
Now that you
are charged and inspired enough by this post to wrap your presents a bit differently and glamorously, shut your computer and start wrapping :)