My friend is really bored of the alphabet poster on her wall to teach her kid alphabets .. She wants something which will look appealing to adults and kids.. Look good as decor .. and make a lasting impression and be educational as well... I started digging for ideas and found some absolutely gorgeous,delicious inspirations for ABC alphabet decor...
Display your ABC's in style
Inspirational alphabet wall from ohdeedoh. Isn't it lovely!! Alphabets of different shapes, sizes and designs made from wood,plastic,print, canvas, frames.. I totally loving it!! Want to make your own..Melissa of a time for everything got inspired by this wall and made her own.. She has given detailed instructions on her blog!!!
Check out Melissa's blog here!!Her wall looks so pretty isn't it .. I feel so inspired !!!
Store everything from A to Z in this beautiful Alphabet drawers from Kent & London .. Inspired by vintage printing blocks, this chest can teach your kids to learn alphabets plus it has different sized 26 drawers to accommodate things as per need!! Perfect for kids or office!! If you are into some serious organizing then you can put things as per their initial alphabets!!
Don't want to go for the full blown alphabets .. How about a smaller version with Alphabet prints.. Cute isn't it!! These cute cool prints are available on Trendy prints shop on etsy. Click here to see more lovely options for alphabet wall decor!!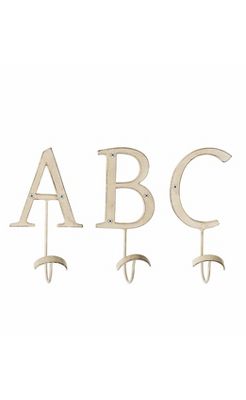 Anthropologie 's Alphabet hooks are not only beautiful .. They are add charm to wall decor and are also educational !!!
ABC chairs by Roeland Otten consist of an alphabet of chairs and stools consists of all 26 letters. An alphabet to sit upon. Read the detailed interview of the extraordinary designer on design Milk.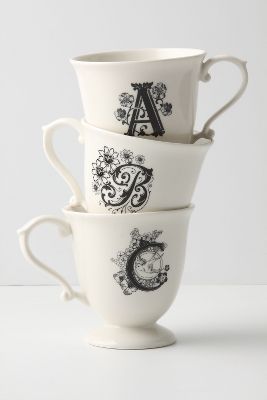 Alphabets need not be for children only..They can make lovely gifts for adults as well!!! These monogrammed letters on the white porcelain cups from Anthropologie will make beautiful gifts for Valentines day, Anniversary, birthdays..I would love one with P on it.. ahem ahem is someone listening out there!!